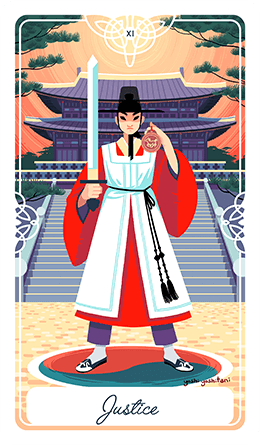 JUSTICE, HONESTY, IMPARTIALITY, PRECISION, BALANCE
Symbolizes – balanced view, judgment and conclusion. Law, cause-effect, responsibility.
The tarot card Strength is a classical representation of the insight of justice, bearing the scales of impartial perspective and the sword of determination. This justice is not blind and invokes awareness of all available details and understanding within us. This is the card of karma, reminding us that we must accept the consequences of our actions, that there's an ultimate harmony and balance of giving and receiving. It's responsibility and realizing causes. This is a lesson of the double-edged sword, emphasizing that we will be judged as we judge others.
Life can show us how prepared we are to deal with a situation. It precisely reflects our level of readiness for anything by putting us in certain situations – it doesn't give us what we want, it gives us what we need. And that is reality.
Focus is on issues affecting law or relationships. Justice embodies equality, triumph, and balance. The presence of the card indicates that if you're involved in a legal dispute, its case will be fair and just, and the outcome will most likely be in your interest.
Justice, as a card, carries a lot of energy, an outburst of feelings, unwavering and finalization. The point where something has to be done is already reached – to reject the burdens and limitations that stop us, which threaten to stifle and cripple our vital energies. If you feel like this, take the risk of breaking and throwing away the old behavioral patterns, models and restrictions that stifle your energy. You will be surprised by the vitality and the possibilities that Justice presents when you have to consider many factors to make a rational and deliberate decision.
An ideal situation will follow if you make sure that your conscience is clear and try to take into account the opinions of another person before making a moral choice.
Justice may indicate your involvement in judicial relations in the near future. The outcome of your case will be only fair. Court cases will be treated fairly and impartially. A third party may contribute to making a fair decision. If someone was wrong with you, he would soon offer you an apology. If you have acted unfairly, you will soon have to answer for your actions.