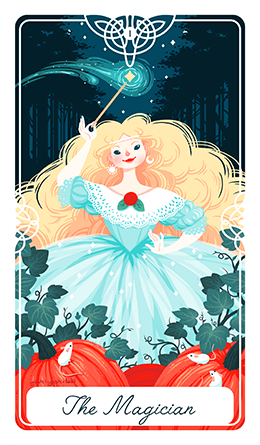 SUCCESS, ARTISTIC SKILLS, MANEUVERABILITY
Symbolizes – creative abilities, originality, self-reliance, confidence, mastery, skill, talent, awareness, attention, excitement, will and power to create.
The Magician tarot card represents the power of action and a person who at a certain stage fully commands the situation. The power is so great that, in the time and circumstances he or she's involved, this person is indeed the messenger of gods.
Skilled, experienced, self-confident. He uses the tools at his disposal and calls all his forces, takes advantage of the sky, the earth and all elements he has access to. Thus the Magician creates the future.
All possibilities and paths are unfolding before him, focusing on new endeavors and actions to fulfill deepest desires.
This card symbolizes skills, sleight of hand, sophistication, insight, conscious mind, skill, strong will and self-discipline needed to complete a task or to get extra qualification. Use your talents for noble purposes. Demonstration of abilities and originality win you respect and followers. You have the necessary confidence to take risks and navigate your life. These are the definitive points needed for one to achieve his/her goals.
You're challenged to reach your personal power and use it. You have the opportunity and ability to manifest your desires. Your sense of personal strength is tremendous. Learn how to focus your will and passions on a particular purpose. Solutions come as you use your potential responsibly.
You should note that the Magician may also represent disloyalty and betrayal. The inquirer may be manipulated and exploited by someone. In a situation like that, you must follow your instincts.