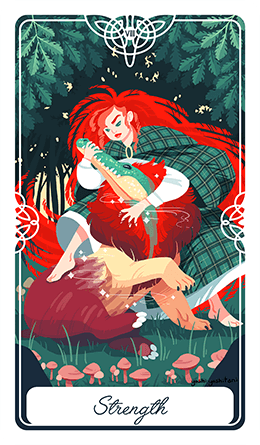 STRENGTH, COMPETENCE, SUBTLETY, THANKFULNESS, ELEGANCE
Symbolizes – triumph of higher nature, power of spirit, endurance, innocence, openness, fearlessness, unwavering conviction, peace, presence of spirit.
The tarot card Strength represents pure love, sexual energy under control. It rules with great delicacy, giving an opportunity to for the energy to develop constructively.
The traditional meaning of Strength is overcoming obstacles through the power of the spirit, success under unforeseen circumstances. It's the card of willpower, energy, endurance and triumph. It grants us the strength to master an internal or external rival, for example, to overcome a certain weakness.
Strength is proving yourself by way of enhancing your own sense of dignity and self-respect.
Self-confidence, fortitude, active action and standing up for one's rights are all good signs to harness and use our own strength and courage. Manifestation of weakness, losing nerves and inertia are all signs that we must find that courage.
The focus is not just on physical strength, but also bravery, determination and bravery – expressed both within us and before others. The card is usually associated with showing strong rationality and discipline against our harsh and wild animal nature. Not suppressing or restraining our passions, but rather their mastering in our everyday life.
Strength speaks about courage and endurance in a situation of pain, difficulty and unhappiness, but also nobility on the battle field. It represents patience, tenderness, goodness, benevolence, and is a sign of unwavering friendship. The presence or influence of a selfless individual, willing to risk himself/herself for others, but also to fight for their change for the better.
This card is a message, that challenges are coming. You must be true and balanced. Also, loving yourself is the most powerful thing in a moment of test. Strength without love is unscrupulous arrogance, brutality. Love without strength is purposeless sentimentality. Strength is the confidence that you can overcome whatever fate throws at you. When you can be true and concentrate at will, you posses real power.
On the negative side strength might be showing you the need of order and discipline. It's possible that now you're abusing something – alcohol, food, spending too much and such. It's possible you don't realize and straight-up deny it, so you must be honest with yourself. Ultimately tarot readings are trying to help and not just point fingers. Whatever it is you're doing, it's not bad as long it's in the boundaries of the golden mean, but every excess can put you out of the right path.