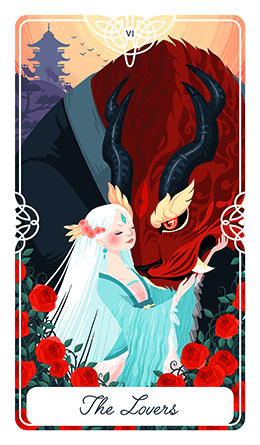 LOVE, CONNECTION, CHOICE
Symbolizes – attraction, affection, beauty, romance, harmony and defeated difficulties.
The Lovers tarot card represents sex, love, connection and the important role relationships play in our individual development. It provokes balance between our physical and emotional desires.
Focus is on love, relationships and change. The card also symbolizes transition of state – usually changing one social group for another. The Lovers show you that a new relationship will be more successful and with deeper meaning than past experiences. If you're already with a partner, the card shows that all problems will be conquered the old connection is still strong. It reminds you to keep going and have faith in order to succeed.
The Lovers can show up when you need to make an important and fateful decision. This can be a romantic adventure, accompanied by the need for a choice. Establishing of a sexual relationship. Love and marriage can totally obsess your mind. Maybe you're thinking only about keeping a relationship with certain someone. A test before the start of a new stage of development. A crossroad. Maybe a new relationship or partnership opportunity is about to introduce itself. Short outings or trips and intimate conversations.
This card tells you that the moment has come to speak about your relationships with a friend or someone you can trust and get good advice from.
The Lovers can also represent well-being, spiritual protection and healing.
This card advises you to carefully think over all options before making a final decision.