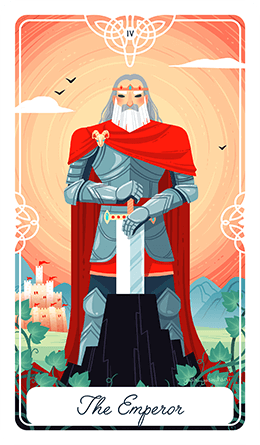 POWER, CONTROL, TRANSCENDENCE, HONOR
Symbolizes – leadership, guidance, authority, self-control, government.
The Emperor tarot card represents descent of the soul into the material world. He is the master and ruler of all matter. His will is law. The Emperor establishes and impersonates rules and order, he's the first one to reveal a need for regulation and order in the eyes of the soul. He shows the necessity for a system and governing principles and guidelines. The Emperor also balances the abundance of The Empress. He reigns – teaching control in chaos.
This card marks the start of reevaluation of moral values and ethical principles. If you were just following people around, it's time to stand up and bring back your self-respect. He is the messenger of a coming time filled with tremendous energy and activity, when you'll be engaged in doing something publicly and manifested – a family, building, business venture and/or works of art.
Focus is on certain changes, which start to take form in the eyes of the beholder.
The Emperor symbolizes power, supremacy, stability, competence, authority, willpower, conviction, protection, material wealth, independence and determination to fight the injustices of the world. He suggests that the time has come for you to have new favorable opportunities, which will bring success. You have to act fast without procrastinating, consider all changes and adapt.
The Emperor says that with the help of your rational thinking and converting thoughts to action, you will be successful. You can receive a promotion, your organizational and leadership skills will be rewarded. He also sends a warning – you may need to oppose a rival or someone that is in the lead.
This is the card of respect, honor, stability and rationality. It foretell that you're becoming more independent human being. Now is the moment for action, organization of structures, to create a stable environment. A mentor or partner can help you. You may soon get a high social status.
On the negative side The Emperor may mean that you attach too much importance to a dominant position in your romantic relationships, and this may cause your lover to lose sensitivity and affection.