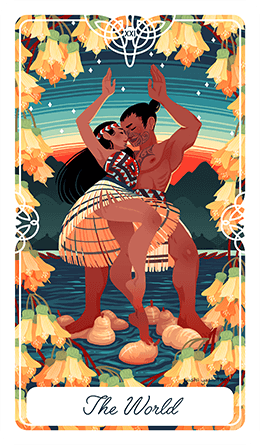 TIME, CONVERGENCE, RESOLUTION, FREEDOM
Symbolizes – accomplishment, triumph, achieved objectives, guaranteed success, long journey, emigration, a closing of one door and opening of another, Alpha and Omega.
The World tarot card represents the end of the road. And the beginning. This can be the fulfillment of all desires, improvement and success on a physical level, refining skills and talents to the point of impeccability. This is an extraordinary satisfaction and liberation in every meaning of the word. The card does not have negative additional meanings. It is a promise of a miracle, knowledge and happiness when everything is said and done.
Focus is on a significant change in your life. It can portray travel abroad for some time. It shows that the inner journey has been completed and now you are in harmony with yourself. Concerning life, the meaning is that the material world is not evil and, when you approach it with wisdom and understanding, it creates the conditions needed for your spiritual development. It calls for a successful and definitive completion of an undertaking for the successful realization of a great dream. The World is a very strong card.
The card marks an enormous change, one that pierces your entire inner world, and with it everything around you. Maybe it really means dreams come true, but really actual longings rather than superficial desires and whims. It marks important events in life, the moment you finally discover what you are looking for.
The World says that you are at the last stage in achieving your goal. Everything goes well and on schedule, success is close. You will get what rightly belongs to you. You feel like a complete and self-sufficient person. You are now experiencing a state of complete satisfaction with the fulfillment of your plans, and then you will open a next phase of life, full of new experiences. Your actions are an active preparation for the next stage. Perhaps a long journey.