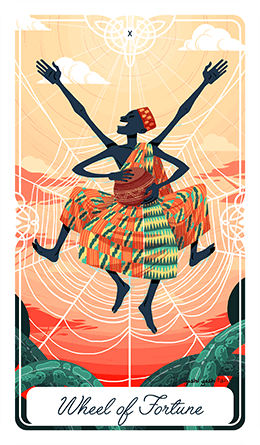 CYCLES, HABITS, PATTERNS, FATE
Symbolizes – destiny, fortune, happiness, prosperity, divine interference, chance and coincidence, new beginning, career change, new relationship, travels. Also: delays, bad news, unexpected problems and changes patience.
The Wheel of Fortune tarot card usually represents situations and events outside the boundaries of human intervention and control, but also synchronicity. Those are the events that surprise us from nowhere. Something that's repeating, echoing. It shows the hope within. It is a message to let things go in their natural order, without interfering. To expect the unexpected.
Focus is on potential success, following the changes in your life. When the Wheel of Fortune is present, it shows you the importance of letting things flow in their own direction. A good advice is to have several plans as as changes might be knocking on your door. The card tells you that the key to success is adaptiveness, changes will be positive, a new beginning will be born from chaos.
The Wheel of Fortune is bonded with the hand of Fate, or put simply – luck in your life. Good luck, however, is not a constant… the Wheel is spinning, what has been up is now down and vice versa. The card shows us that power is transient, temporary and if we don't feel in place, we just need to show patience and wait for the right circumstances. But if we are on top, in the lead, we need to carefully plan ahead, because change is inevitable.
The Wheel speaks about an extraordinary individual with broad views and open mind. Possibly he has experienced many incarnations and is on Earth to help and guide. Those persons can be very magnetic, but for those with a lower level of consciousness, they might seem like enigmatic and confusing or too provocative and overwhelming. These are humans, traveling, learning and expanding awareness, not theirs and others. Overall – very interesting figures, with a strong sense with purpose.
This is a great card for those in a tough situation, as it shows that everything has its time and place, its moment, and that ours is coming. Change is always scary, but it also is constant. If you manage to adapt quickly to it, you will learn and acquire something important and extraordinary.